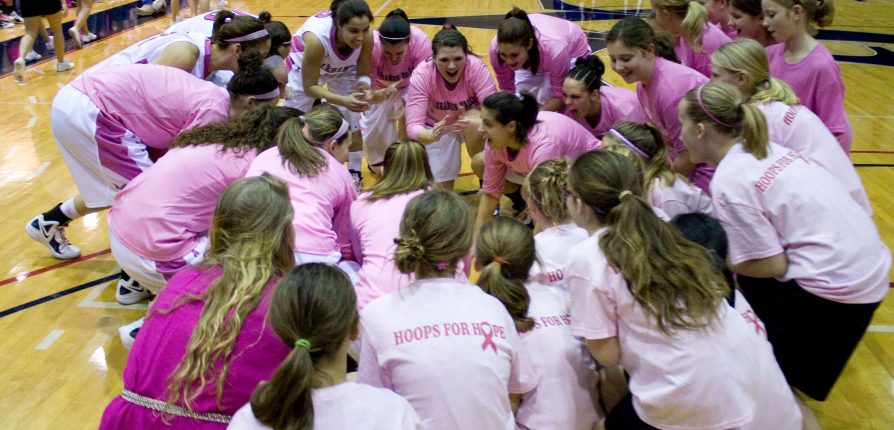 Proud Supporters of the 10th Annual Women's Pink Game
---
Elite Coach is proud to be donating our charter bus services to the 10th Annual Women's Basketball Pink Game at Lebanon Valley College. This is an annual tradition for LVC, drawing in one of their best crowds of the year. Students, the local community, and medical professionals in the area come to help raise Breast Cancer Awareness with proceeds going to the American Cancer Society and the Genetics Program at the Penn State Hershey Cancer Institute.
The event will consist of 2 basketball games featuring Lebanon Valley College vs Arcadia University. The games will take place in the Sorrentino Gymnasium at Arnold Sports complex on Wednesday February 8, 2017 at 6:00pm.
With the amount of people expected at this event and the popularity of the Pink Game, LVC has started using off campus sites including a local high school for overflow parking. To help transport fans to and from the stadium, Elite will be donating a shuttle bus for the basketball games.
The Pink Game will feature the PA Breast Cancer Coalition 67 Women, 67 Counties: Facing Breast Cancer in PA art exhibit. It is a photo exhibit with 21 pull-up banners that feature cancer survivors from all over Pennsylvania. Each banner will provide a story about survival and support Survivors of Breast Cancer will be recognized at half time.
We are excited for the opportunity to help support the fight against breast cancer and are hoping to have many supporters joining us for the game. See you there!