Luxury Charter Bus Services
Charter A Bus With Elite Coach
Charter Bus Services for Groups of All Sizes
Across town, or across the country – Elite Coach can take you there.
Elite Coach provides private charter bus service for groups of all sizes and is known for friendly, reliable, professional service that takes the hassle away from traveling as a group. Whether for school, university, church, business, tour company, or any other traveling group, Elite Coach handles every detail to ensure your trip is safe, enjoyable and worry-free.
Why Elite Coach?
We're a service company first.
Over 29 years of experience since 1991.
A fleet of well maintained modern buses.
Professional, friendly and safe drivers
Highest safety rating with the United States Department of Transportation
Charter Pick-Up Area
Elite Coach is centrally located in Lancaster County, Pennsylvania. Elite Coach provides Local and Long Distance Charter Service from the Mid-Atlantic Region to anywhere in the United States and Canada. We'll take your group across town, or anywhere throughout the continental United States and Canada.
Day Charters
Available from most locations within Eastern Pennsylvania including: Lancaster, Reading, Harrisburg, Lebanon, York, Philadelphia.
Overnight & Multi-Day Charters
Available from Pennsylvania as well as most locations in the Mid-Atlantic region including: New York, NY; Baltimore, MD; Washington, D.C.; Philadelphia, PA.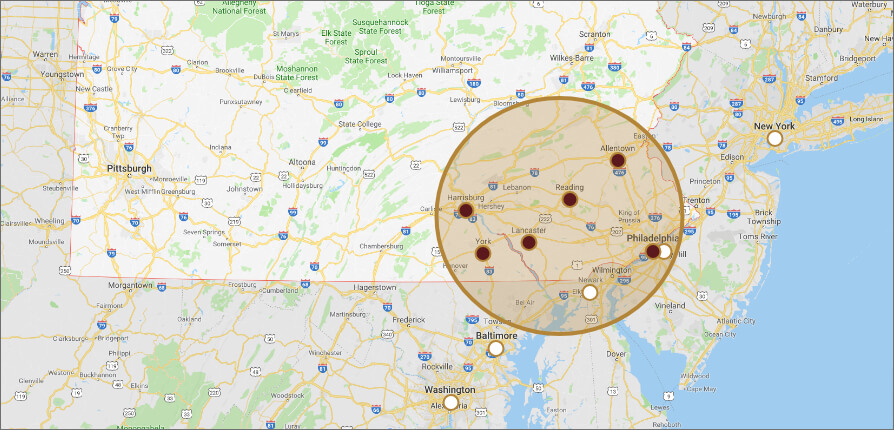 Request A Quote
Harrisburg Academy
"Dropping a note to express my thanks for the excellent service your charter service gave to the Harrisburg Academy. The coach was immaculate and extremely comfortable. Just as advertised, the drivers were very professional and obviously experienced. We certainly felt like our safety was placed in confident and competent hands. As I wouldn't consider using another company for future field trips... I'm spoiled."
"Just giving thumbs up to the service extended to our band on New Year's Day. The buses were excellent and our drivers were outstanding. Right on time and knew what we were going to ask before we had to ask! They were very, very polite and professional. The Mummers Parade is a pretty stressful day getting things organized. Ken and Jeff made sure we had nothing to worry about in getting us around."
PSU Harrisburg Athletic Department
"What great service and so easy to work with. We never need to worry about anything knowing we are working with Elite. It makes my job SO much easier and should any travel issues arise, the team is there to help figure out a solution ASAP. They know what they are doing and they do it well! We are so happy to work with them and look to for a long while."
We're sorry. Our site does not support your browser.
In order to view this site, you will need to upgrade your browser.
Choose one of the free upgrades below.