Luxury Charter Bus Services
Ask the Right Questions
Frequently Asked Questions Charters
How many vehicles are in your fleet?
Elite Coach currently has 38 vehicles in our fleet. Thirty, 48 –56 passenger Prevost models, four 38 passenger Temsa mid-size coaches, and four 26 & 30 passenger Temsa coaches.
Details
What's your safety record & DOT rating?
Elite Coach has an excellent safety record and holds the DOT's top rating of "Satisfactory". In addition, Elite Coach is an approved carrier for the Department of Defense and continues to hold the highest DOD inspection rating of "1". To view our safety profile, access the safer system at https://ai.fmcsa.dot.gov/sms/. Elite Coach, Inc. DOT#500739 ICC# MC246444 PUC# A 00109939
View FMCSA Safety Rating
Do you do onsite tours of your facilities and equipment?
Elite Coach is located at 1685 West Main St. in Ephrata, PA. Customers are always welcome and we invite you to come view our facilities and our fleet. Our office is open Monday – Friday, 8AM – 5PM.
Details
How do you handle roadside emergencies?
Elite Coach is a member of the International Motor Coach Group and has a nationwide maintenance agreement with all of the member companies. Our first priority is to our passengers. IMG companies will provide a replacement coach to move our passengers when necessary.
Details
Do you ahere to federal safety regulations?
Elite Coach strictly adheres to the FMCSR regulations and to the hours of service rules.
Details
Do you have an onsite garage and preventative maintenance program.
Elite Coach has a full service, 5 bay garage facility on site staffed with full time, experienced factory trained technicians. All of our equipment is serviced at regular intervals and according to factory specifications. As a result, our fleet is in top condition at all times.
How long has the company been in business?
Elite Coach has been in business since 1991 and has grown to a fleet of 39 coaches and over 100 employees.
Charter Pick-Up Area
Elite Coach is centrally located in Lancaster County, Pennsylvania. Elite Coach provides Local and Long Distance Charter Service from the Mid-Atlantic Region to anywhere in the United States and Canada. We'll take your group across town, or anywhere throughout the continental United States and Canada.
Day Charters and Local Service
Available from anywhere in South Central & South East Pennsylvania including: Lancaster, Reading, Harrisburg, Lebanon, York, Allentown, Philadelphia.
Multiple Day & Long Distance Charters
Available from Pennsylvania as well as most locations within the Mid-Atlantic region, including gateway cities: Philadelphia, PA, New York, NY, Baltimore, MD, Washington, DC, Newark, NJ.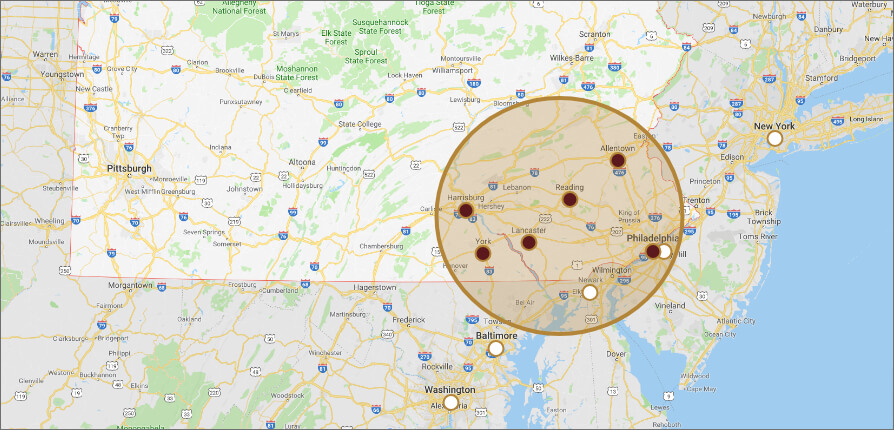 We're sorry. Our site does not support your browser.
In order to view this site, you will need to upgrade your browser.
Choose one of the free upgrades below.